I got a DLSR months and months ago - and it's been sitting on a shelf in the original box except when I use it. Which hasn't been enough because I didn't have a bag I could throw it in to take along with me.
But now I do.
I got this idea from a tutorial I found online to turn a regular purse into a padded camera bag here on
Lil Blue Boo
.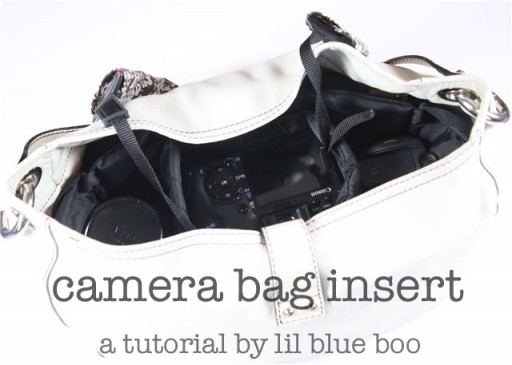 So I kept my eyes open for a suitable purse on sale and found this one at Kohls a few weeks ago. I think I paid maybe $20? And it had an umbrella too (bonus!) - I like the bright yellow color.
You need a bag with an open inside (no dividers) and a squared (rectangular actually) bottom to fit an insert into and for stability.
I needed to modify the measurements in the tutorial, and didn't follow it to the letter, but it was pretty easy - and I had all the materials (besides the bag) already on hand:
This denim repurposed from some IKEA curtains (I have a lot of this, so you've seen it before...and you'll probably see it again). I also had cardboard, 1/2 inch foam, and spray adhesive on hand. I did buy some extra velcro but that was it.
I cut a bottom and four sides from both the cardboard and the foam.
Basically, if you've made a simple tote bag with a squared bottom, then you already know how to do much of this. The only tricky part was that the math didn't seem to come out right for me first time I tried to change the measurements for the tutorial, so I used some empirical measuring to square the bottom on the second try.
After cutting 2 large rectangles of fabric to match your bag measurements, just stitch up the sides with right sides facing.
Then square the corners - checking with the cardboard bottom piece to be sure the measurements look right.
Before sewing up the lining, add your velcro strips (I tried out the fusible ones and so far they seem sturdy).
The construction bits are not shown here - using the adhesive I found it was easier to stick the foam pieces to the corresponding cardboard and then insert the bottom first (with adhesive on the bottom of the cardboard too). Then I inserted the lining and fit the side foam panels in, tucking and futzing them around to be a snug fit. The tutorial instructs a handsewn finish at the top - this may look nicer, but I was feeling too lazy to do that, so I folded and pinned, and then stitched on the machine - it was tricky with the cardboard and foam panels, but they are still flexible, so with care I managed it.
Then I made two inserts with only foam and with velcro on the end tabs to make 3 compartments in the bag that can be adjusted and moved as needed.
And Voila! An attractive camera bag!
This bag won't suit every occasion - like it won't be particularly good for travel the way I do it, since I'd need a more multi-functional bag to carry other items too. But I can throw this in the trunk to take around with me, and I can fit my wallet and cell phone in there if I'm going to an event or something.
I would do some things differently if I make another one - there was a nice tutorial on Sew Mama Sew! awhile back that looked more flexible and very nice for example. But this bag makes me really happy for the moment. The inside and outside pockets are very handy for smaller things like memory cards and a lipstick. Handbag-like camera bags can be quite spendy, so making one for under $30 feels good.
It's already Sunday, but I was out of town on business all last week, so I'm linking up with
Sara's Whoop Whoop! Linky party
- it seems that the Master linky app was down due to technical issues and many link-ups seem to have been affected - so the party was extended!
It also looks like I missed the Hands2Help official signup too, but there's still time - I just need to figure out if I have the time this spring - it's another busy time! Go check out the Linky's and if you are a quilter, consider a charity quilt challenge - H2H or something else close to home.
Have a great week!